Henri d'Ursel (1900-1974)
A longstanding friend of Henri Storck, this great aristocrat and cinema enthusiast presided after the war over the Ecran du séminaire des Arts, the leading Brussels film club. Over many years he presented the masterpieces of world cinema to around two thousand spectators gathered together in the great hall of the Palace of Fine Arts.
These memorable screenings, with which Henri Storck and Jacques Ledoux were associated, were the starting point for the creation of the Film Museum.
The Pearl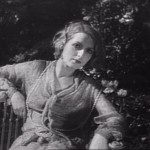 Henri d'Ursel's only film is inspired by surrealism. Its principal protagonist, Georges Hugnet, also wrote the scenario, an adaptation of Feuillade's film serials.
Also with Kissa Kouprine, Renée Savoye…
1929. 35 mm., black and white, Silent, 20′.
Realisation : Henri d'Ursel
Script : Georges Hugnet
Images : Marc Bujard
Interpretation : Georges Hugnet, Kissa Kouprine, Renee Savoye, Mary Stutz