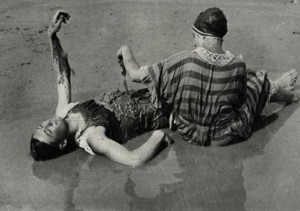 There remain a few photos, said Henri Storck referring to the review Tribord that he founded in 1930 with his friend Labisse. The review itself had a short but intense life. In one year it produced eight editions, one on women, another devoted to Ostend and a third to springtime. The collaborators were prestigious: Max Jacob, Blaise Cendrars, Joseph Delteil, Michel de Geldherode, Franz Hellens, Charles Dekeukeleire etc. The illustrators were every bit as prestigious: Ensor, Spilliaert, Dufy, Tamara de Lempicka, Van den Berghe. Henri Storck published texts and photograms of his films in the review.
La mort de Vénus refers, a contrario, to her birth. Born of the sea she will disappear back into the sea.
Henri Storck summarized the film in a few scenes:
A man and a woman enter the water. When they come out, their swimsuits tell us that he is she and she is he. This reversal designates their erotic activity in the sea. They have made love and come back wrongly dressed. Double transgression!
A man and a woman are on the beach. They talk and use their feet to show they desire one another and, with their toes, they draw hearts in the sand.
The man and woman are still on the beach. They are building sandcastles with the wet sand. On the man's body a very phallic construction takes shape.
The woman disappears into the waves. But the pleasure derived from her presence is so strong that her absence becomes a dream-like consequence.
About this film, in which the eroticism is as obvious as it is frustrating (nobody will ever see it again), Henri Storck states: Our thoughts were very innocent.
Linked to this film, which alas, is now no more than a tale, are a few images of another film that does not even have a title. But, as Henri Storck said: It doesn't show much and there remain only a few minutes of it. I wanted to film the body of a woman as a landscape with its valleys, forests, its nipples, its curves and its rifts. In Ostend at that time, there were many pretty girls from Paris who livened up the nightclubs and whom painters hired as models by the day at fifteen francs per hour. That's what Labisse and I did. She was a woman over whom my camera could wander as if she were a dune. Henri had just finished Images d'Ostend and his eroticism was pure and landscaped. After two hours of filming, the lady got dressed: neither Storck nor Labisse had jumped on her. This had nothing to do with pornography or an orgy. Each filmmaker was intimidated by the other's presence and held in check any tendency they may have felt to frolic.
Direction and camera : Henri Storck
Argument : Félix Labisse et Henri Storck
Actors : Félix Labisse, Gwen Norman
Negative turned to dust.
35mm/B and W/10'/1930